PuppetXeno
biography
Nothing beats music.
I should start a label and name it that
0

August 21st, 2021 + 4:08 AM
·

PuppetXeno
Hi,
My online music activities have now completely moved to SoundCloud
https://soundcloud.com/puppetxeno
It took some time but I find that the community is really supportive; the format is different from BandAmp in that it has no actual forum, but commenting on one another his or her tracks really hits that spot that BandAmp had to offer too.
It is a bit different - at least in the way I used to use BandAmp and how I am using SoundCloud. On BandAmp, I felt inclined to offer critique on technical stuff, whether it was on songwriting, performance or productiono techniques - even though it may have helped some people, I also figure that people upload their stuff simply to share it, and I comment exclusively on the parts that resonate with me.
So if there is a track with a shabby vocal production, I will not call it out; I will not offer an idea to mix things better UNLESS the artist asks for it, for instance if the song description states that he or she had trouble mixing the vocals. Only then would I offer advice (and only IF I have any!)
Similarly I find it not okay if someone comments on conscious mixing or production choices (so often heard like Your vocals are too far in the back/too much effect; --- any one ever figure that this is as intended? De-clog thine ears...
Commenting on the things that resonate, stressing the stuff that works for me, provides a positive feedback loop, empowers and sets things in motion. So now that I have daily contact on SoundCloud with very talented musicians from all colours and styles, while the old Amp, charming as it is and for all it meant to me, I can only view it as a museum piece by now - a monument, central to the main hall, for sure. But for me, functionally as a musician, the upgrade has been made.
Be seeing you.. I do visit musea, sometimes
0

January 23rd, 2017 + 5:01 AM
·

PuppetXeno
Working on new music projects, I will upload new material on BandAMP again. Although I also updated my Soundcloud account, the time limitations of Soundcloud uploads (3 hours max) makes it less interesting to use that as a "main" hosting site. I have put up some old archive material there.
Also, some material has made it to the online stores (iTunes and the like - go check it out for the Psicopilot EP) - the more polished and themed productions will be published commercially. Demos and rehearsal outtakes will be featured here on BandAMP.
And I can be found on ReverbNation, but I am not using that site as actively. I still prefer BandAMP for user interface
0

November 29th, 2012 + 4:11 AM
·

PuppetXeno
Hi, to any who will read this.

So I've been away from the Amp for quite a long time, though this doesn't mean that my care for the site and it's members have in any way diminished. Not in the least!

It was a shock for me to read that Ralph (Flyer7747) passed away, but I'm glad someone took the effort to let me know. And then I read about TritonKeyboarder's loss of his dog Cedric last year, and more recently, his mom. Wow, has it been that long ago since I last visited them? Although it shouldn't be too hard for me to log into BandAMP periodically and stay up to speed with things, it's somehow faded from my system.

This is mainly because there's been a lot of things going on in my life. I'm in a job transition period (which stretches across many month, over half a year now and there's no end to it yet) and I've been playing in a new band (Mistaken Saints) while my old band UMF has kicked the bucket. We're currently working on recording an album and we have a bunch of gigs coming up.

Also, I've sought medical attention to learn to deal with (as it turns out) a sleeping disorder and have been diagnosed with being on the autism spectrum along the way (yey) and as a result I've experienced massive "untangling" and "growth" of my persona over the past year. Positive stuff.

Then my father was diagnosed with prostate cancer and was subsequently succesfully prostatectomized, so hopefully that's the end of that, but it's been a tense time for the family. Unfortunately some other people close by weren't as fortunate and sadly fell away before their time... A lot of sad news seems to be reaching me these days. Such is life, I suppose.

Anyway, I will put it in my system to periodically check back on the Amp. There's great people on here, and not in the least, some very good music too.

And it is my intent to keep adding to that in futures to come.

Cheers,

Tom
1

June 26th, 2012 + 4:06 PM
·

PuppetXeno
I made it to the next level of Radiation Officer. This was an academic level course and I scored an 8 out of 10
I am very proud of this achievement, not in the least as this opens doors to new jobs at the company I work for (and that means a better paycheck
although welcome, I care little for monetary gain)
Today, the manager congratulated me on my success and I was handed a book called The Physics Book: From the Big Bang to Quantum Resurrection (Sterling Publishing. ISBN 978-1-4027-7861-2)
Pretty damn awesome!
These days I'm enjoying life a lot (how different that can be
)
1

February 20th, 2009 + 12:02 PM
·

PuppetXeno
3

July 2nd, 2022 + 2:07 PM
·

PuppetXeno
Well, it's nice to hop in here every now and then, so it's also nice to drop a tune or two, too.

This one is from a live session 2021-11-05... The final session of our drummer Lebo, who sadly had to depart this world 2021-12-22 due to complications from Covid infection.

It was a small miracle that we recorded this session, and though it is not our tightest performance, we certainly had a great groove going and I'm pretty happy about this final mix too.
0

October 26th, 2021 + 5:10 PM
·

PuppetXeno
I will now proceed to hurt your eyes.

Photosensitive trigger warning! Not a joke.



6

April 13th, 2021 + 12:04 PM
·

PuppetXeno
Well, so I got my hands on MovieStorm, and now I can make silly Machinima videos to some of my songs. Here is my first attempt:




and here is my second:




It's fun, but a lot of time sinks into making the sets - I made the second one completely from scratch, the first one is based on a template.
1

October 18th, 2019 + 7:10 PM
·

PuppetXeno
Okay I botched posting songs, and I can't delete this post,
https://alicedeeper.bandcamp.com/album/wall-of-fury-ii-halloween-redux
and
https://soundcloud.com/puppetxeno/bella-robotica
Well it's something to listen to...
3

August 18th, 2018 + 6:08 PM
·

PuppetXeno
Thrown away my Face is a track I originally composed in 1993, at the early beginnings of my musician's carreer. Over the years, it has gone through many iterations and re-imaginations. It was subject to a remix competition right here on BandAMP as well in which contestants won T-shirts.

As a two-chord song, each individual recording heavily relies on the instrumental arrangement more than it's musical composition. The last version dating from 2012 already, it was time for a new one. Also, the song itself celebrates it's 25th anniversary this year (2018), which I realized after finishing the track.

This version is influenced by experiences I had at a festival in july this year, I tried to capture the atmosphere of that festival as I perceived it. The very original recording was also based on experiences I had at an underground club so there you have it - full circle.

But I doubt it not, there will be new versions in the future. This track has become something of a "benchmark" song, not so much in recording quality but more as a "how is life for me these days" kind of way.

Thanks,
PX
Alias:
PuppetXeno

Status: Offline
Threads:
121
Posts:
3,096
Songs:
56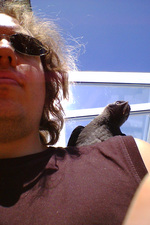 Joined: September 11th, 2005
Last login: July 05th, 2022
My Messengers
| | |
| --- | --- |
| AIM: | n/a |
| ICQ: | n/a |
| Skype: | n/a |